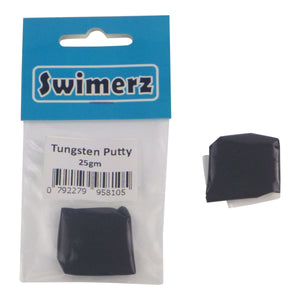 Perfect for any fisher who wants a hard wearing and high density material for balancing their rigs.  When extra weight is needed to get your flies, lure or bait down in the water column fast, tungsten putty is designed to be added to your rig to make it lay flat on the bottom (as in a sinker), balancing hooked baits like soft plastic lures, and can also be used to tune hard body lures.
Tungsten putty is a firm, malleable material made from tungsten powder and a polymer binder that will tend to harden when submerged into cold water after shaping. This results in a material that is 30% heavier than lead, reusable, non-toxic, and requiring a smaller amount to have the same sinking benefits as lead. Tungsten putty leaves no sticky residue on hands, clothing or gear, is lead free, and therefore safer for the user and the environment.
Tungsten Putty also suits other uses - use as ballast in model cars and boats, in drones, or in your tennis racket
Available in two sizes – 25 grams and 50 grams.