Artizan
Artizan lures are hand made in Australia, by experienced fishers, for Blue Seas Tackle. If you are looking for a heavy duty spinner bait or buzz bait, or just need some lure making components, the growing Artizan range may have just what you need.
Spinnerbaits and Buzzbaits all use high quality materials and suit fresh and salt water fishing for larger species ranging from Barra, Perch and Murray Cod in the fresh, to GT's, and other toothy things, off a reef.
Artizan Components are high quality lure making parts that use stainless steel, brass, or other long lasting materials in their construction. They make great replacement  parts or for use in new lure construction.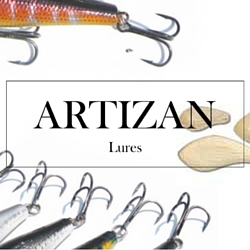 Click the product category to see Artizans Spinnerbaits and Buzzbaits