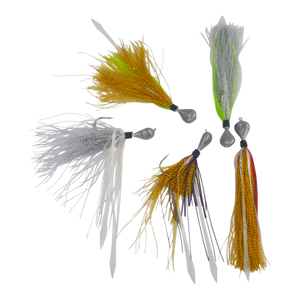 There is no doubt that krystal flash can turn some quality fish on. An excellent option for jigging many species of deep water reefie, Artizan Flashtail Jigs are a bucktail style Jig Head, that is also effective against flathead in estuaries, where you can fish them like a soft plastic.
Tied to each flat eye jig head are 2 lumo tails, a 22 strand metallic silicon skirt, and a generous bundle of Krystal Flash. They come in standard skirt lengths that can be trimmed to the desired length and shape. Machine made, these lead football-shaped jig heads have an inclined front profile that facilitates lift when retrieved. They are fitted with heavy duty, rust resistant, 6/0 hooks and weigh 30 Grams each (approx).
Each pack contains 2 x Jig Heads.