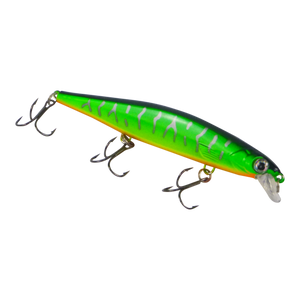 The Finesse 110mm Chudan is a slow sinking, minnow style, hard body lure that is super versatile whether cast and retrieved, twitched, or jerked.
Similar to a floating bibbed lure, Chudan's have a lip and dive when cast and retrieved, but will sink slowly when paused, getting down near the bottom where the fish are holding. The flattened sides provide flash, in most variations, and keep the lure in line.
You can fish a broader range of depths with these lures. Simply cast well up onto a shallow flat and hold the rod tip straight up to keep the lure from snagging in the bottom, then as the water gets deeper, drop the rod tip slowly and slow your retrieve to get the lure deeper. Fish on light tackle, off rocks or sand for Tailor, Jacks etc.
Available in a range of colours, Finesse Chudan's feature a balanced design that works with treble hooks and also with Big Eye inline single hooks (not included).
Chudan body length - 110mm
Fitted with 3 x size #6, black nickel coated, chemically sharpened Trebles
Stainless Split Rings - 6mm
Approx Weight - 13 grams