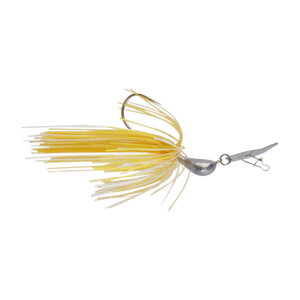 Tournament anglers are always looking for a competitive edge and Dekoi Bladed Swim Jigs offer this.
With a design that sets it apart from other vibrating jigs and Chatterbaits, Dekoi's have a rapidly oscillating blade that produces lots of vibration and sound. This action triggers violent strikes from target species, whether Bass, Barra, Perch or Murray Cod, without the angler providing a lot of pull on the lure.
Equipped with an upturned stainless steel Jig Dancer blade and a range of 66 strand 'flash' silicon skirts, fitted to achieve maximum flaring action, this lure is built with a hinge design that ensures the lure will track in a straight line, maximizing potential hook ups.
Dekoi's feature 1/4oz and 1/2oz flat eye jig heads, fitted with a heavy wire, ultra-sharp 3/0 and 5/0 Hooks respectively for excellent hook penetration and the strength necessary to keep even the biggest fish pinned. The snap is brass, with a marine grade stainless steel split ring. This configuration ensures the lure tracks in a straight line at all times.
Pair them with your own favourite soft plastic lure, whether curly, paddle or split tail if you wish, or use them as they come, to great effect. Dekoi Bladed Swim Jigs are great performers around snags and weed, and can be fished in places spinnerbaits can't go.
Available in 7 gm and 14 gm head weights, and in a range of colours, Dekoi Bladed Swim Jigs come in a twin pack, are one you definitely want to put in your tackle box.