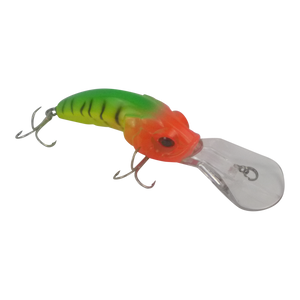 Leapfrog lures are high visibility, deep diving, lures, intended to attract a range of species ranging from Murray Cod in the freshwater to Barra in the salt.
The broad bib facilitates an aggressive wobble as water spills around the edge of the lure, and a fast steep diving action designed to get the lure down to the required depth quickly, particularly around snaggy areas.
Equipped with a ball bearing rattle to attract attention, These lures have 2 x Size 4, heavy duty, treble hooks with flattened saltwater split rings. The 100mm total lure length comprises a body length of 65mm, and a Bib length of 35mm. They weigh 13grams each.