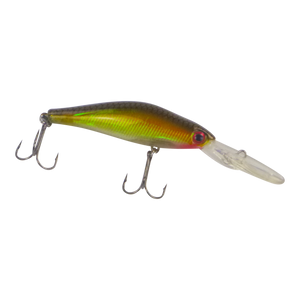 Finesse Longlip Minnows are a slow sinking diving minnow, hard body lure that weighs in at 7.3 grams (approx). They have a body length of 65mm and bib Length of 30mm, and are fitted with 2 x Black nickel coated size #6 trebles that are a little larger than are typically fitted to this size lure. They also have a ball bearing rattle located in the tail that makes these lures great for casting.
These lures will get to depth quickly on a retrieve, or can be left to sink slowly when casting against structures where fish may be holding and where a floating lure can't easily get into.
With the slightly larger trebles fitted to these lures, they are an excellent solution for chasing most freshwater species and saltwater predators ranging from Bream and Flathead to Bass, Sooties and Mangrove Jacks.