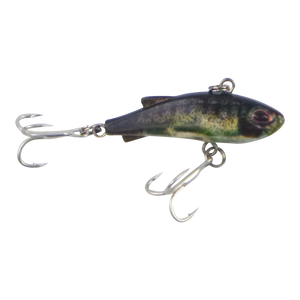 Precision-weighted and balanced, Finesse Reflex Vibes have a subtle vibrating action at low speeds, and a soft knock rattle that creates a single cadence sound to attract fish. Particularly suited to small species fishing, particularly Trout, Sooties, Bass and Bream etc.
As Finesse Reflex Vibes travel, water pressure on the leading face will try and force them to a vertical plane, much the same way as a lure bib works. Any movement of the rod tip will give these lures a fish attracting shimmy when retrieved.
When cast, you can allow them to sink horizontally to specific depths before starting to work them, or allow them to sink right to the bottom to target bottom dwellers or deep sounding fish*. If you want to work them in the shallows, commencing a fairly rapid retrieve as soon as the lure hits the water will achieve this.
* Using the draw and drop retrieve involves casting the lure out and allowing it to sink to your desired depth. Lift the rod tip up and you'll feel the lure working. Then, lower the rod tip to allow it to sink back down while retrieving about half of the line you gained by lifting. Repeat this process and you will have a very effective retrieve.
4.2cm length, 4.5gm approx weight (including hooks)
Size 10, black nickel coated heavy duty hooks
4mm flattened, corrosion resistant, stainless steel split rings