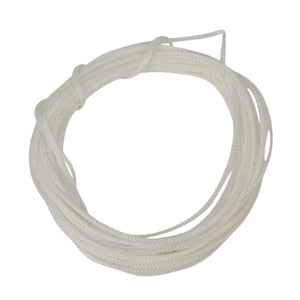 Swimerz Braided Hollow Core PE Assist line is a white, 16 strand, tightly woven design, with an extremely strong tensile strength and great wear resistance. Made using 100% Genuine HMWPE fibres (Dyeema), the hollow core range is designed for splicing, but is soft enough to tie easily, while still being stiff enough to keep your hooks from getting fouled while jigging.
When used in assist hook rigs and other rigs, the various line strengths available give excellent flexibility, are light weight, and experience no strength deterioration when exposed to ultraviolet rays.
Available in various breaking strains -
Hollow Core, 35kg breaking strain, 0.8mm diameter, 5mtrs
Hollow Core, 70kg breaking strain, 1.0mm diameter, 5mtrs
Hollow Core,100kg breaking strain, 1.2mm diameter, 5mtrs
Hollow Core,160kg breaking strain, 1.5mm diameter, 5mtrs
(*all measures are approximate)
To see how to make an Assist or Stinger Rig, go to our 'How to make Assist Hooks' page.